It's been a gloomy past few months in California, but leave it up to Rachel Zoe to bring some color back into our lives! Gone are the neutral hues and thick layers of Winter as we all reintroduce playful colors and sundresses back into our closets. And once you add in the fun accessories, must-have beauty products and tech goodies that Rachel has included in this season's Box of Style, you'll be set for the season!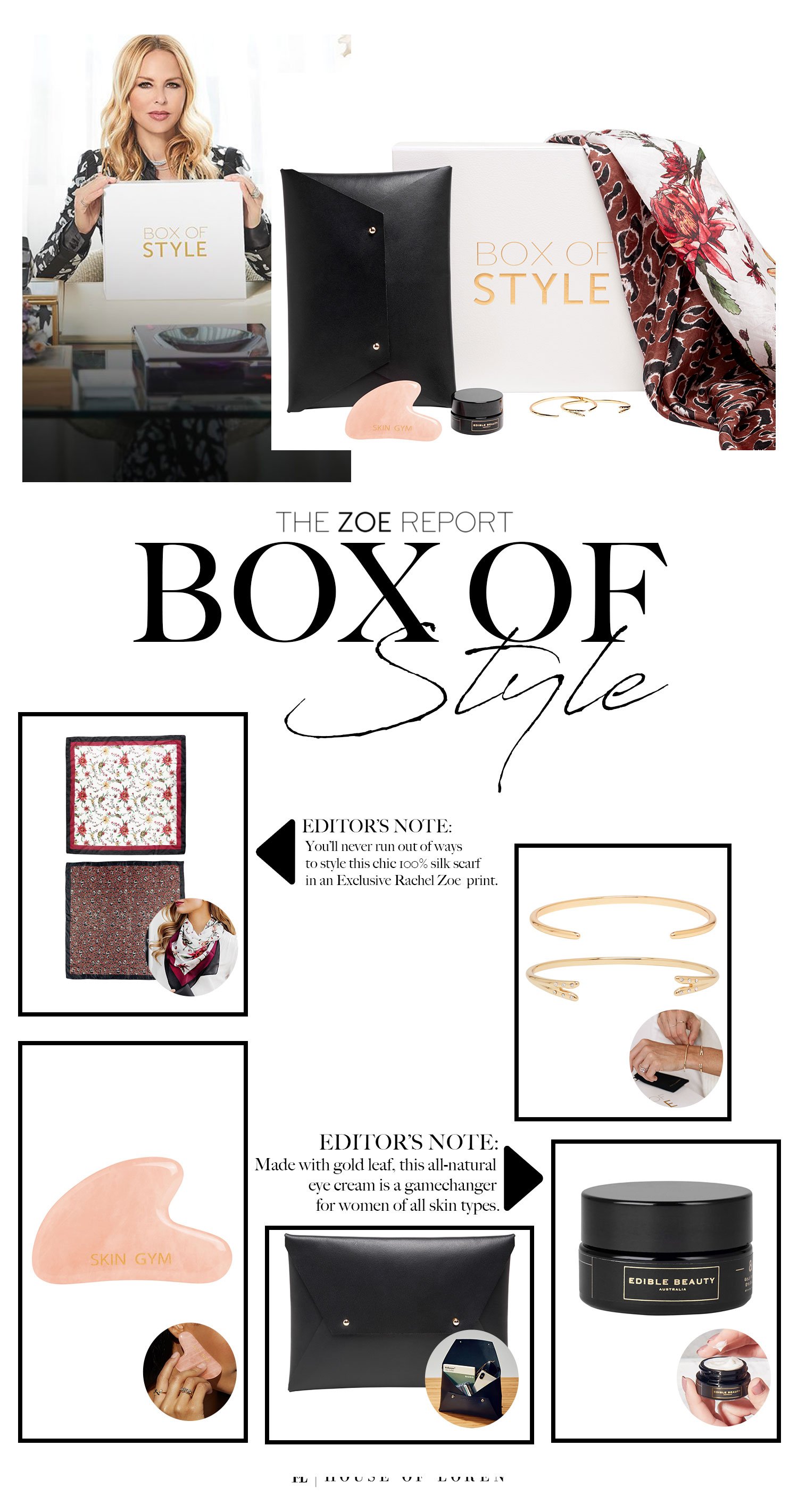 Box of Style Spring Edition Review
If you've never heard of Box of Style before, it's a seasonal fashion & beauty subscription box curated by Rachel Zoe. Every season's box introduces us to a finely curated selection of luxury limited-edition goodies that become staple necessities in our lives. I've been a subscriber for over a year now, and every box is always better than the last.
"Spring is my favorite time for a style refresh. A few breezy essentials make it so simple to elevate everything from blazers and boots to feminine dresses to jeans and a T-shirt. So incorporate a little glamour into your look this season—I promise it's never been easier!" – Rachel Zoe
Read more to hear my thoughts on this season's box and use code 'HouseofLoren15′ for $15 off your very own Box of Style!
Item Name: Michelle Campbell Gold Talon Bracelet Set
 Exclusive
Retail Value: $215
Why I Love It: These adjustable gold-plated brass bracelets with white pave stones are the PERFECT little touch of glam for the minimal gal. They can be worn only for a simple chic look or layered with mixed metals for a little extra drama, as recommended by Rachel Zoe herself.
Item Name: Tribe Alive Leather Clutch Exclusive
Retail Value: $78
Why I Love It: This genuine leather clutch holds all the basics (phone, card case, keys and lipstick) that you need for quick runs or fast paced moments on the go. So it's easy to wear as a clutch or to pack in your work bag for easy transitioning from day to night.
Item Name: Chan Luu Silk Scarf Exclusive
Retail Value: $105
Why I Love It: Rachel Zoe is a huge lover of silk scarves. She often includes them as a signature item in each Box of Style. For the Spring season, she's included a stunning 100% silk scarf by Chan Luu. Featuring an exclusive Rachel Zoe Collection print that's to die for. Not only is it two-sided, but it can be worn in multiple ways — from around the neck or as a head scarf, or around the waist or as an accent for your handbag.
Item Name: Edible Beauty Gold Rush Eye Balm
Retail Value: $65
Why I Love It: This Edible Beauty eye cream is a LIFESAVER and the perfect size for traveling. Ideal for all skin types, it helps with puffiness and rejuvenation for those long nights and early mornings.
Item Name: Skin Gym Rose Quartz Heart Gua Sha
Retail Value: $32
Why I Love It: Rolling the skin is currently all the rage in the beauty world, known for boosting circulation, draining puffiness and contouring. This Skin Gym massage tool takes the jade roller a step further with its functionality and compact size. Making it a daily necessity for your beauty routine and the perfect accessory to add to your vanity. 
Item Name: Amazon Echo Look *Gift With Annual Subscription*
Retail Value: $99.99
Why I Love It: This is an exciting one! Typically you won't find tech items in the Box of the Style. But this month, Rachel added an Amazon Echo Look for annual subscribers! This hands-free camera makes it easy to take photos and videos on the fly. Making it the perfect beginner-friendly tool for beginner and veteran bloggers alike.
To order your Box of Style and use this special code
"HouseofLoren15"
for $15 off your first box!
This post was brought to you by Box of Style, all opinions are my own.
Thank you for supporting the brands that make House of Loren possible.