Is it just me, or does it seem as if Autumn is every fashionista's favorite time of year? It completely makes sense to me; Fall is the season when you can pull out your favorite boots and sweaters to play with layering and combining rich textures. Your color palettes switch to darker hues and you can pull off effortless style while being cozy. On the downside, your beauty routine must be completely revamped to prepare your skin for the harsher weather. But with the holiday season right on the coattails of Autumn, you get to switch your beauty routine up by playing with fun, dramatic makeup looks.
If you couldn't already tell, Autumn is absolutely one of my favorite times of the year. And this year, it's all the more exciting thanks to all of the Fall goodies I just received from this season's edition of Rachel Zoe's Box of Style! 
Box of Style Fall Review
Every season's box introduces us to a finely curated selection of valuable goodies that become staple necessities in our lives. This season, the Fall Box encourages us all to dig into the pieces that we already own and love, amplifying them with a few new staples hand-picked by Rachel Zoe herself — along with introducing us to a few new beauty essentials that just may become our survival kit for conquering the season. And getting all of these items with a total value of $481 for just $75 (with my special code below) is a steal that no Fall fashion lover can refuse! 
Read more to hear my thoughts on this season's box and use code 'HouseofLoren25′ for $25 off your very own Box of Style!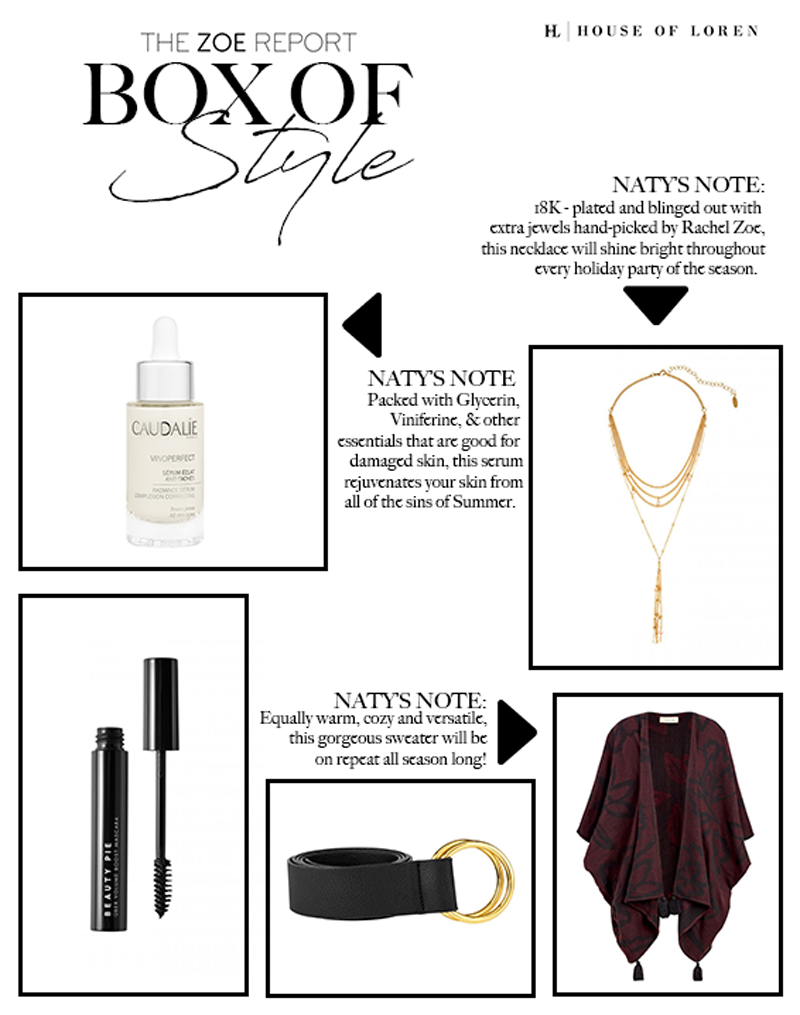 "Each piece is intended to be layered into your existing wardrobe and worn for any and every occasion, day or night. I hope you're as obsessed with these finds as I am! – Rachel Zoe
Cleobella Sevigny Capelet Exclusive
Retail Value: $228
This Cleobella draped cardigan may just be my favorite item from this week's box. Anyone who knows me, knows that I am a huge fan of anything that is easy and effortless — and that's exactly what this sweater is. It's a beautiful rich burgundy hue with touches of black that make it so easy to just throw on with almost anything. From a simple dress for a night out or a pair of denim and a simple top, this sweater immediately steps any look up. PLUS it's super soft, warm and flattering for any body type. If this wasn't featured in this box, I could completely see myself buying it on my own. 
Caudalie Vinoperfect Radiance Serum
Retail Value: $79
As I mentioned earlier, transitioning your beauty routine for Autumn is so important to ensure that your skin doesn't react negatively to the drastic change of weather! It can be difficult to go through all of the trials and errors necessary to find that staple product to restore your skin, but Rachel Zoe made it that much easier with this radiance serum. It has over 4 stars on Sephora, so the beauty gurus have spoken. And after trying it for myself, I completely agree. This non-comedogenic and oil-free is perfect for you if you need to revive the radiance your skin after a long Summer of harsh sun-exposure. It also performs miracles for dark spots, thanks to the infusion of viniferine. The perfect serum to incorporate into your nightly beauty routine!
B-Low The Belt

 

Camille Wrap Belt Exclusive
Retail Value: $70
Cowgirl belts are the go-to trendy accessory for this season. But for the gals who prefer a classic timeless piece over trend-chasing, this belt is the perfect one. It features subtle but stylish metal yellow gold rings that allow you to tighten and adjust without being bulky. It doubles as a waist and hip belt — multifunctional pieces are what I'm about, so I'm already sold! It's also environmentally conscious and made from vegan leather, so this belt gets 5-stars in my book. 
Ettika Chloe Tassel Necklace Exclusive
Retail Value: $80
This is the accessory that you'll be wearing to every holiday party this season! It's a beautiful, dainty piece that gives you the multi-layered look all in one. This 18 Karat gold-plated necklace stands out just enough, featuring an array of small crystals. This exclusive edition of the Ettika Chloe tassel necklace also features additional crystals hand-selected by Rachel, making it a one-of-a-kind piece. And if it's not your style, it's the perfect item to re-gift to a good friend!
Beauty Pie Über Volume Boost Mascara
Retail Value: $24
Once you find the perfect mascara, you just know it. And once you've found the right one, you don't want to go through the hassle of trying a new one. But if you're feeling adventurous or running low on your go-to, this mascara is nice one to try. It lifts, lengthens and separates as all good mascaras should do, without the clumsiness or watery formula. It's a great option to have in your bag as a back up mascara for those days when you're rushing out the door and need a quick beauty pick-me-up! 
To order your Box of Style and use this special code
"HouseofLoren25"
for $25 off the Fall Box of Style
This post was brought to you by Box of Style, all opinions are my own.
 Thank you for supporting the brands that make House of Loren possible.